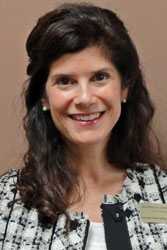 Jennifer M. Cannady, MA, CCC-SLP
Speech Pathologist
Jennifer M. Cannady, MA, CCC-SLP, received her Master's in speech-language pathology and is certified with the American Speech, Language, and Hearing Association. At the Kansas Voice Center, Jennifer participates in patient evaluation and directs treatment for a variety of voice and swallowing disorders. She has been professionally trained in voice with an emphasis in opera and musical theater. As an experienced singer, Jennifer is active in a variety of performance mediums throughout the Kansas City area.  She serves as an adjunct instructor for Rockhurst University's Communicative Science and Disorders graduate program.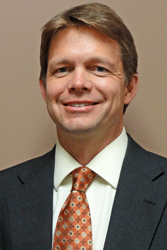 Lee A. Reussner, MD
Otolaryngology-Head and Neck Surgeon
Dr. Reussner is the founder and director of the Kansas Voice Center, a regional center treating those with a variety of voice disorders. He also enjoys seeing individuals with a variety of other ENT concerns and sees patient ranging from newborns to – those that are no longer close to newborns. He has a busy surgical practice including offering the latest surgical treatment for thyroid and parathyroid issues.
Dr. Reussner is passionate about quality medical care and is always working to improve care in his practice and in the community at large. He understands that our health system is often daunting and looks to help all feel comfortable while navigating this system.
A native of Kansas, he enjoys living and practicing in Lawrence after completing his residency training in Rochester, New York. Apart from medicine he has a variety of other interests including music (particularly listening to his wife, Tandy, play the pipe organ and listening to his daughters sing), sports, woodworking, gardening, and home repairs (something is always breaking!), fly fishing, and travel.
Leadership/Volunteer Activities
Director, Kansas Voice Center
Served as Chief of Staff, Lawrence Memorial Hospital
Served on Board of Directors, Lawrence Memorial Hospital
Served on Board of Directors, Wichita Grand Opera
Camp Physician, Philmont Boy Scout Camp, New Mexico
Medical Mission trips to the Dominican Republic
Numerous local and national presentations on the treatment of various voice disorders