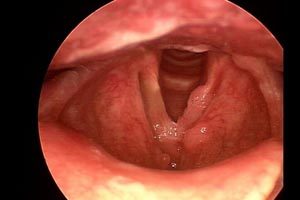 Laryngeal papillomas are wart-like lesions that are viral in nature. This is caused by human papilloma virus (HPV). This is an aggressive virus that usually requires surgical removal. Post-surgery recurrence of the virus is common resulting in the need for numerous surgeries. The lesions can greatly affect the sound of one's voice due to the interference with vocal fold vibration. Spreading of the papillomas can occur both above and below the vocal folds, at times interfering with the airway. (For more detailed information, visit rrpf.org.)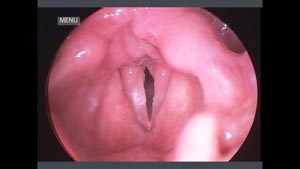 Laryngeal papillomas are wart-like lesions that are viral in nature. This is caused by human papilloma virus (HPV). This is an aggressive virus that usually requires surgical removal. Post-surgery recurrence of the virus is common resulting in the need for numerous surgeries. The lesions can greatly affect the sound of one's voice due to the interference with vocal fold vibration. Spreading of the papillomas can occur both above and below the vocal folds, at times interfering with the airway. (For more detailed information, visit rrpf.org.)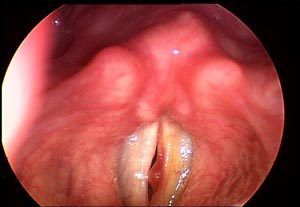 One of several subtypes of vocal polyps. This lesion has the appearance of a "blood blister" on the vocal fold. It may be associated with acute vocal trauma that causes abrupt and fairly severe hoarseness that is somewhat persistent. Small hemorrhagic polyps may resolve non-surgically but usually require many months to do so; larger ones should be considered surgical lesions. Fortunately, the prognosis for full recovery after surgery is excellent.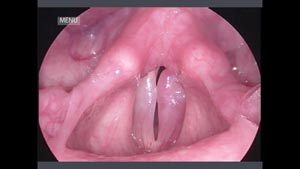 Polypoid Degeneration is vocal cord swelling due to a build up of fluid. It can be caused by gastroesophageal reflux, smoking, hormonal problems and chronic voice abuse. The condition is most common in middle-aged or post-menopausal women who have a long history of smoking. Polypoid Degeneration tends to virilize (masculinize) the quality and capabilities of a voice; therefore, this is most noticed in women.
Presbylaryngis is thinning or aging of the vocal cords) causes the edges of the vocal cords (which normally close completely together) to no longer meet as they should. The result – commonly seen in older patients – is a thinned, diminished voice.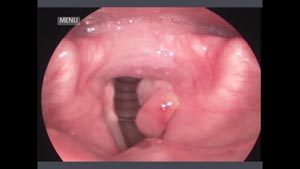 A vocal process granuloma is a growth of tissue that occurs over the vocal process. The vocal process is part of the arytenoid cartilage, which is the cartilage responsible for moving the vocal folds. Vocal process granulomas are non-cancerous growths that arise in response to irritation, and may occur as a result of acid reflux recent intubation?vocal habits.
A lesion that is situated below the glottis (a part of the cavity of the larynx below the true vocal cords.